Myrtle Beach vs Hilton Head - Which is Better for Vacation?
Myrtle Beach or Hilton Head? Discover the best vacation spot for your budget and preferences. Compare attractions, weather, affordability, and more.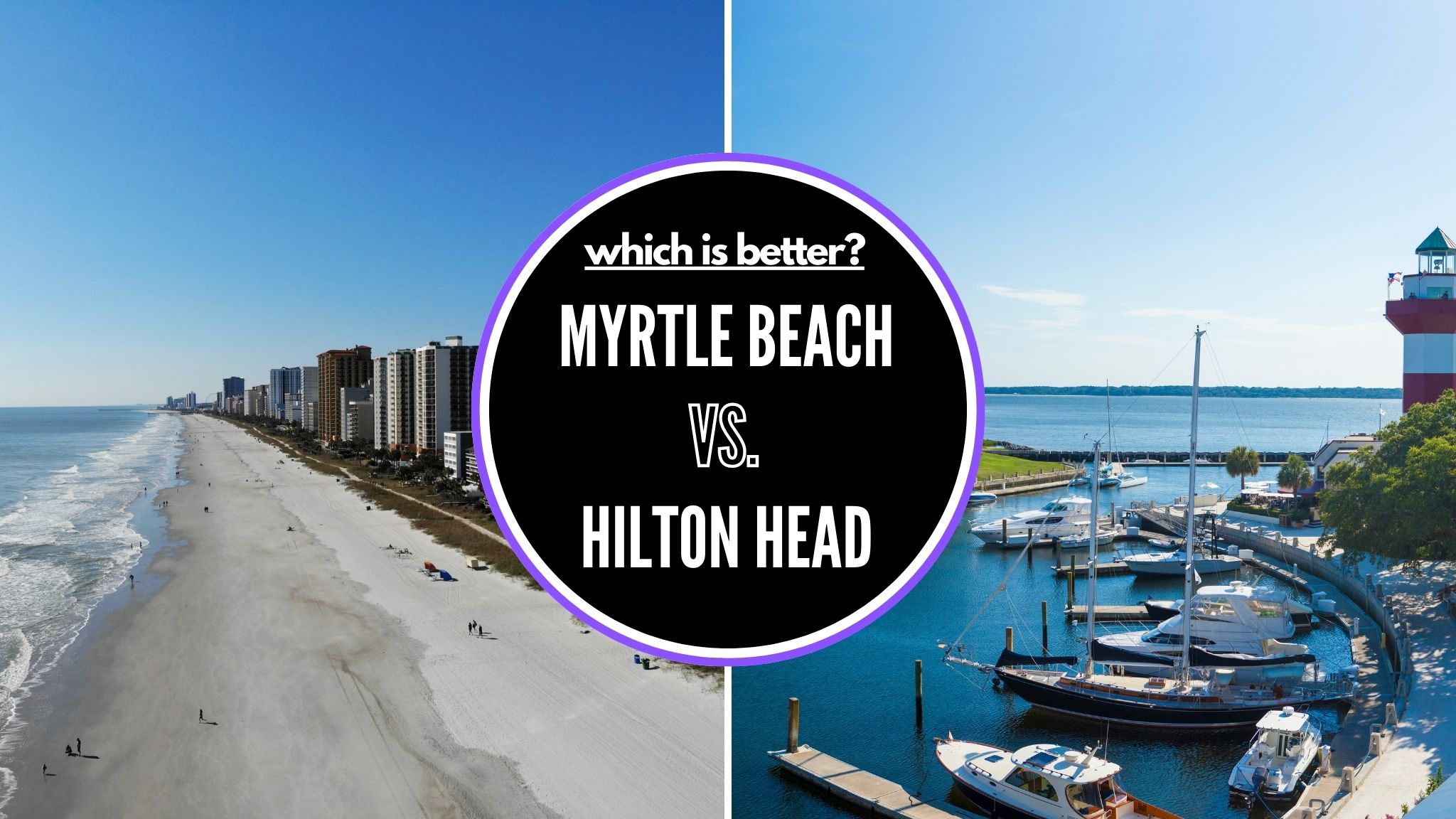 Myrtle Beach is more heavily commercialized compared to Hilton Head Island, making Hilton Head the better choice for people looking for a more laid-back atmosphere. However, Hilton Head is a substantially more expensive option versus Myrtle Beach, which has a reputation for catering to budget-concious travelers.
Overall, it's hard to go wrong when choosing either of these destinations. But, before we get into the full details of our comparison of Myrtle Beach vs Hilton Head, here's a quick overview about each:
Myrtle Beach, a popular vacation destination in South Carolina, is renowned for its affordability, making it an ideal choice for families and individuals seeking a budget-friendly getaway. It's home to a variety of beautiful beaches nearby, including North Myrtle Beach, Surfside Beach, and Garden City, each offering a unique coastal experience to its visitors.
Myrtle Beach is best known for its stunning 60-mile stretch of sandy beaches (known as the Grand Strand), vibrant nightlife, water activies and the iconic Myrtle Beach Boardwalk. Based on tourism research conducted by a leading U.S. consumer travel research firm, Myrtle Beach attracted over 17 million visitors in 2022.
Also located in South Carolina, Hilton Head is a barrier island, offering its visitors a unique blend of luxury and nature, making it a sought-after vacation destination for travelers looking for that old-fashioned small town beach feel. The island is home to several pristine beaches such as Coligny Beach, Driessen Beach, and Folly Field Beach, each providing a unique charm and array of activities.
Hilton Head is famous for its world-class golf courses, stunning lighthouse views, and the Harbour Town district, known for its shopping, dining, and marina activities. According to tourism data published by the Hilton Head Island Chamber of Commerce, over 3 million people visited Hilton Head in 2022.
Things to Do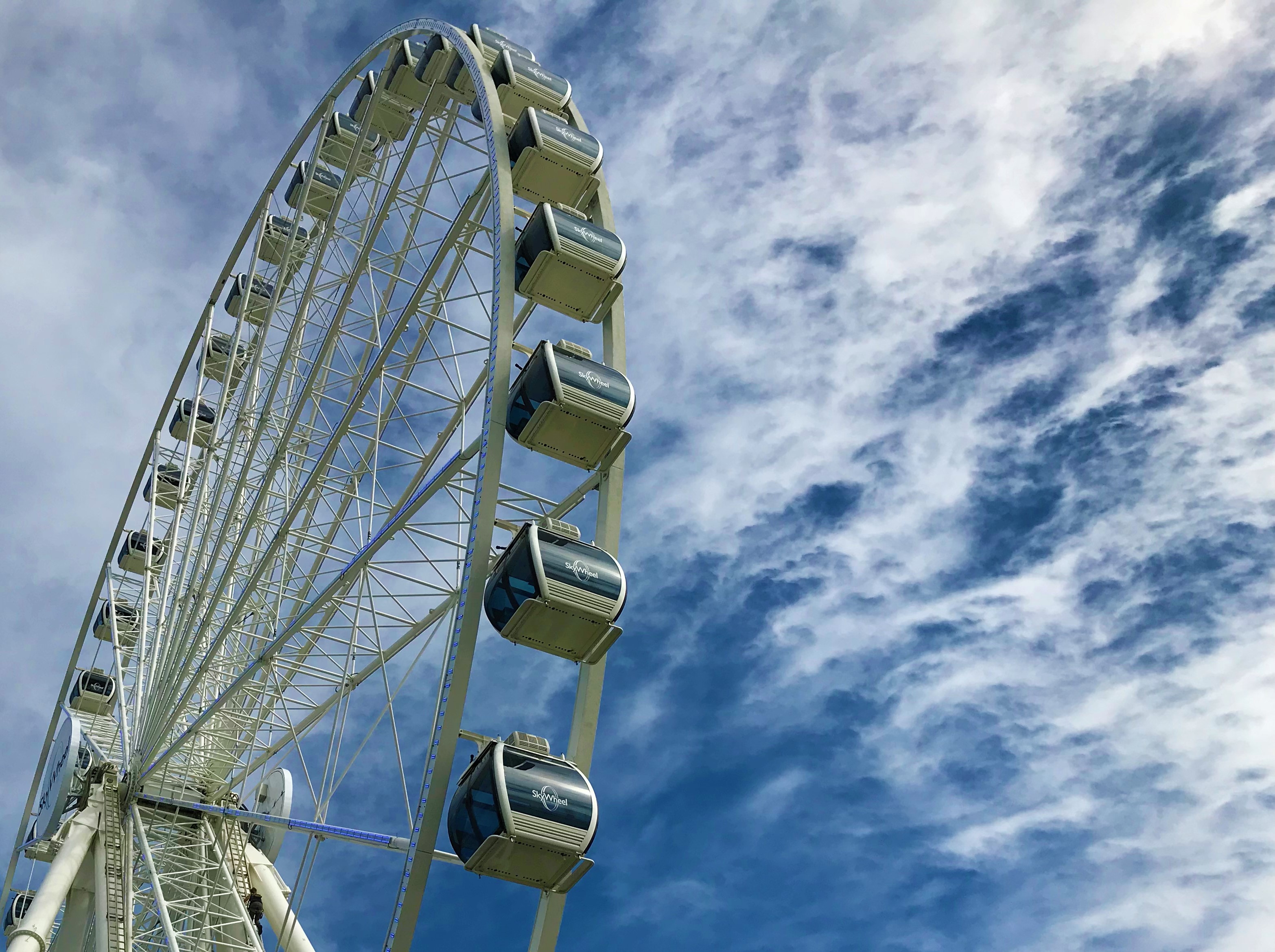 A major upside to Myrtle Beach as a beach vacation destination is that it offers plenty of things to do for every age group.
One of the most popular attractions in the area is the Myrtle Beach Boardwalk, a vibrant 1.2-mile long oceanfront promenade, with a variety of restaurants, shops, and attractions. Whether you're traveling with family or as a couple, this is a great spot for a morning bike ride or nightime stroll.
Another must-visit attraction is Broadway at the Beach, a bustling complex with a variety of shops, cafes, and restaurants arranged around a picturesque lake.
Related: Watch Live: Myrtle Beach Webcams
Of course, no trip to Myrtle Beach is complete without a ride on the iconic SkyWheel, recognized as one of the tallest ferris wheels on the East Coast.
If water-activites are more your speed, you can choose from jet skiing, kayaking, deep sea fishing, parasailing or even rent a pontoon boot and cruise the IntraCoastal Waterway for the afternoon.
Fun fact: The Myrtle Beach area is known as the "Golf Capital of the World" and is home to over 90 golf courses.
Hilton Head Island has more of a laid-back atmosphere, but also has diverse attractions for a memorable vacation experience.
The Harbourtown Lighthouse, with its distinctive red and white stripes, offers stunning panoramic views of the sea, marina, and the award-winning Robert Trent Jones Golf Course, making it a must-visit spot for any visitor.
Fun fact: The Harbourtown Lighthouse is 90 feet high and has 114 steps.
The Coastal Discovery Museum is another highlight, where guests can explore the island's rich history, flora, fauna, and its unique cultural heritage through a variety of exhibits and tours.
Related: Watch Live: Hilton Head Webcams
For beach lovers, Coligny Beach Park is an excellent choice. With its sandy shores, picnic areas, and walking trails, it provides the perfect environment for a relaxed day by the sea. Additionally, the park is close to an array of shops and restaurants, adding convenience to your beach day.
Accommodations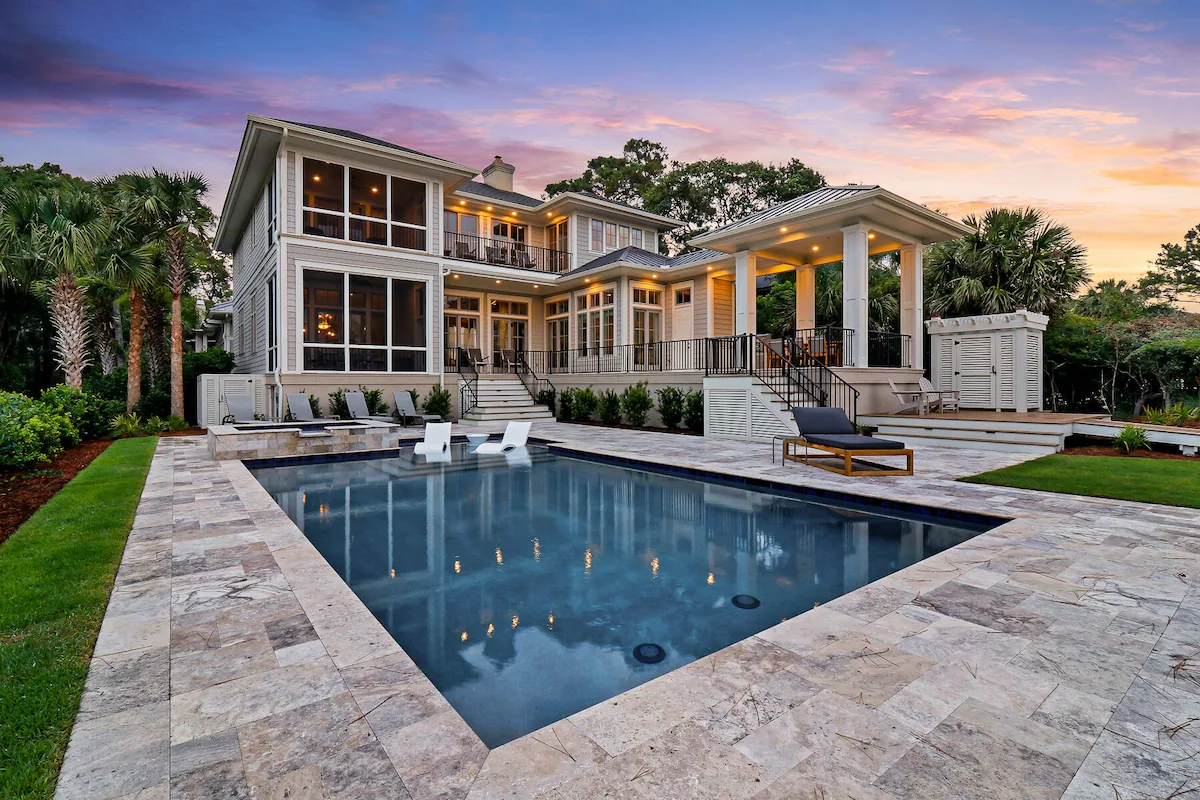 Beach house rental in Hilton Head on VRBO
Myrtle Beach offers a wide range of accommodation options, catering to all types of travelers and budgets.
For those seeking the full resort experience, Myrtle Beach is home to numerous resorts that offer stunning oceanfront views, spacious rooms, and amenities such as pools, spas, and on-site dining.
Here are a few popular resorts in the area:
Vacation rentals are popular in Myrtle Beach, with many condos and beach houses available for rent. These are great for families or larger groups, offering more space, privacy, and the convenience of home-like amenities such as full kitchens and laundry facilities.
Regardless of which type of accommodations you choose, many of them are conveniently located near popular attractions and offer basic amenities for a comfortable stay.
Comparatively, Hilton Head Island may not have as many resorts as Myrtle Beach, but the area is home to multiple resorts.
Here are a few local resorts we recommend:
Like Myrtle Beach, visitors looking for more spacious accommodations in Hilton Head often opt for vacation rentals. There is a wide selection of villas, condos, and beach houses available for rent, many of which are situated on or near the beach.
Based on data from VRBO, Myrtle Beach has over 16,000 vacation rentals to choose from, while Hilton Head has approximately 8,000.
Weather
Even though both cities are located in South Carolina, there are subtle differences in the weather between the two. Myrtle Beach and Hilton Head both have hot summers, cold winters, with enjoyable temperatures during both the fall and spring.
However, Myrtle Beach tends to have slightly lower temperatures in both the hot and cool seasons compared to Hilton Head Island. Additionally, Myrtle Beach experiences its highest rainfall in July, while Hilton Head has its highest rainfall in August.
The table below shows the difference in average monthly high and low temperatures in Myrtle Beach vs Hilton Head.
Month
Myrtle Beach
Hilton Head Island
High (°F)
Low (°F)
High (°F)
Low (°F)
Jan
56
40
60
41
Feb
58
42
62
43
Mar
65
48
69
50
Apr
72
55
76
57
May
78
63
83
66
Jun
84
71
88
72
Jul
87
74
90
74
Aug
86
73
89
74
Sep
82
68
85
69
Oct
74
58
78
60
Nov
66
48
70
51
Dec
60
42
62
43
Travel Accessibility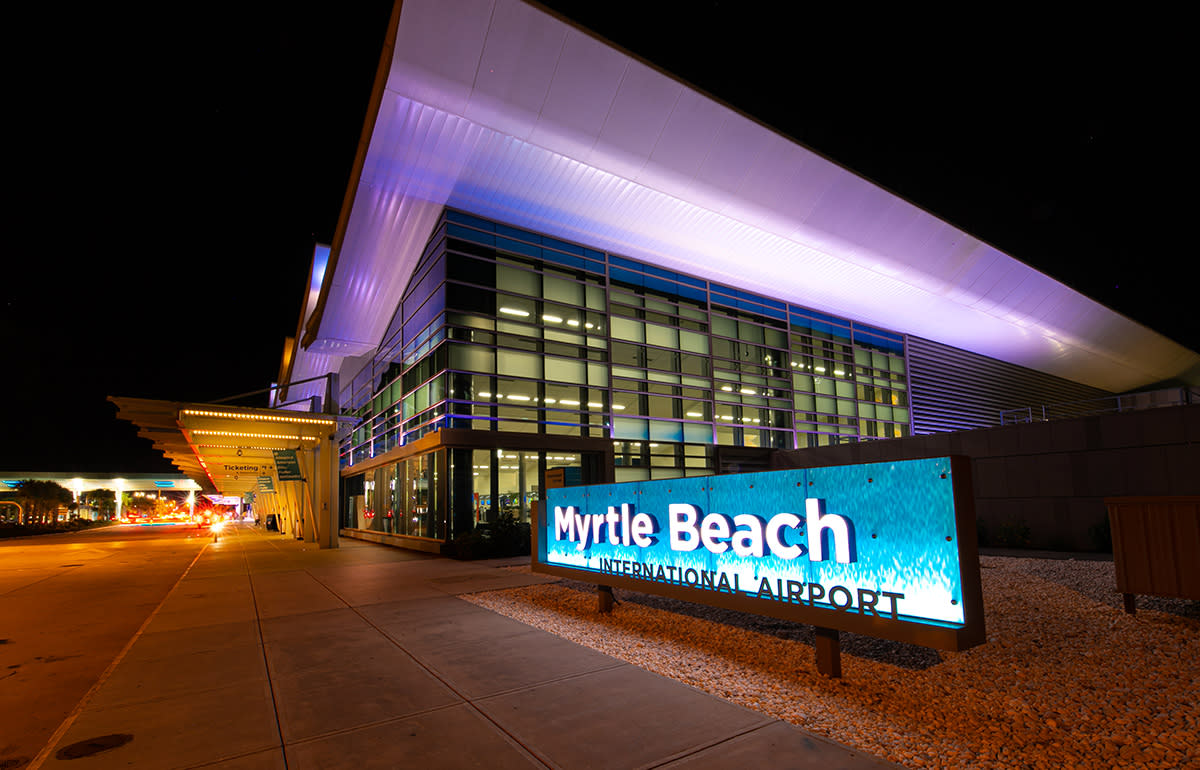 Photo credit: Myrtle Beach Area Convention & Visitors Bureau
Myrtle Beach is serviced by Myrtle Beach International Airport (MYR), which offers numerous non-stop flights from various cities in the United States. The airport is conveniently located just a few miles from the central part of Myrtle Beach, making it a quick and easy transition from air travel to vacation mode.
Statistical fact: According to
research
conducted by the Myrtle Beach Area Convention & Visitors Bureau,
Myrtle Beach International Airport recorded 1,720,000 deplanements in 2022
.
Driving to Myrtle Beach is also a popular option for many travelers, especially those coming from Midwestern and Southeastern states. Major highways leading into the city include U.S. 501, which connects to Interstate 95, and U.S. 17, which runs along the East Coast.
Hilton Head Island is serviced by the Hilton Head Island Airport, which offers direct flights to and from multiple cities, making it an easily accessible destination for those who prefer to travel by air. Additionally, Savannah/Hilton Head International Airport, about 50 miles to the south, provides even more flight options, including many major airlines and routes.
For those who prefer to drive, Hilton Head Island is conveniently accessible via U.S. Route 278. This highway connects to Interstate 95, a major north-south artery along the East Coast, making Hilton Head Island a comfortable drive from many Southeastern cities.
Cost and Affordability
Myrtle Beach is known for being an affordable beach vacation destination that offers a remarkable blend of natural beauty, fun-filled activities, and a wide range of budget-friendly accommodations.
The chart below shows the Average Daily Rate (ADR) for vacation rentals in Myrtle Beach. It's no surprise that rental costs drop significantly during the winter months (off-season) and rise drastically during summer months (peak-season) when vacation home rentals are in high demand.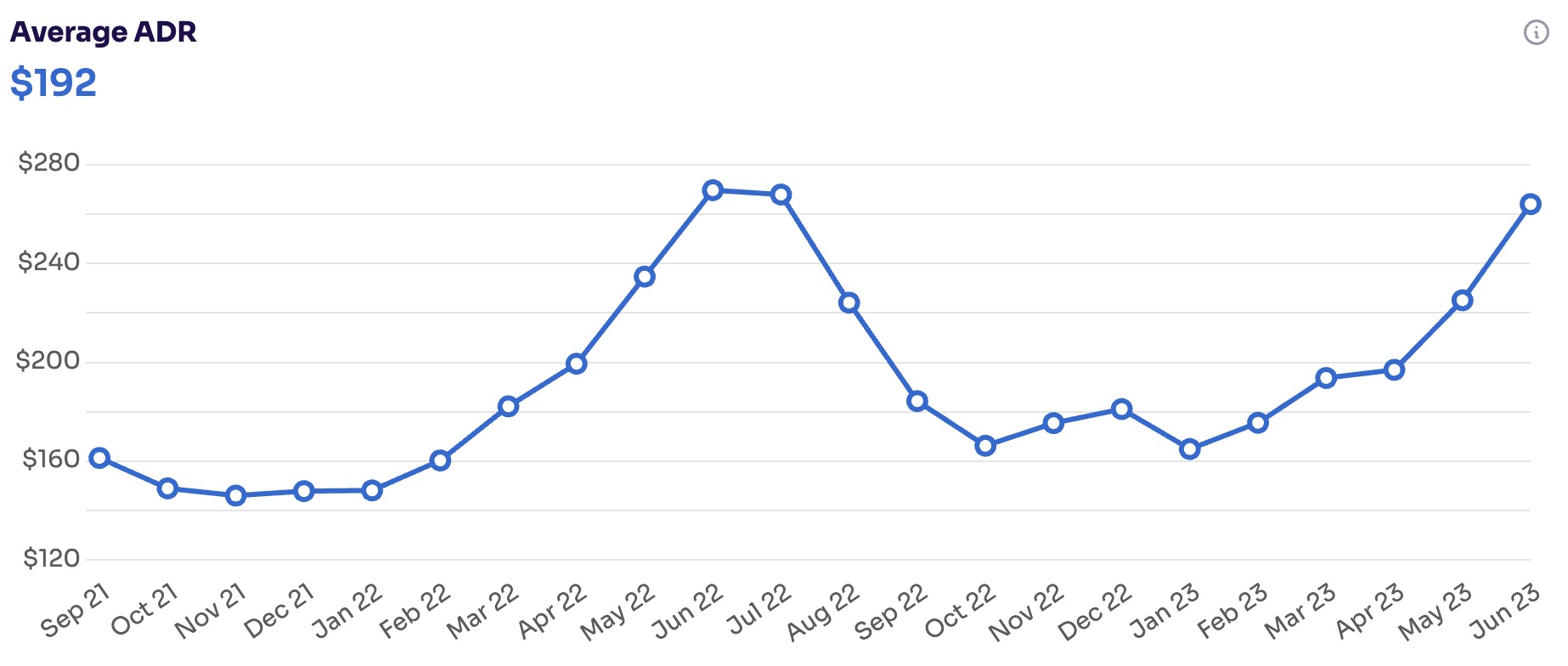 Historical ADR data for Myrtle Beach market via data.rabbu.com
While Hilton Head is often considered a more upscale vacation destination, it doesn't exclude travelers working with a smaller budget. Visiting during the shoulder and off seasons, when rental rates for accommodations are lower, is a quick way to reduce your costs and stay within your budget.
The chart below shows the Average Daily Rate (ADR) for vacation rentals in Hilton Head. Like Myrtle Beach, rental rates are highest in the peak season and drop significantly during the winter months (off-season).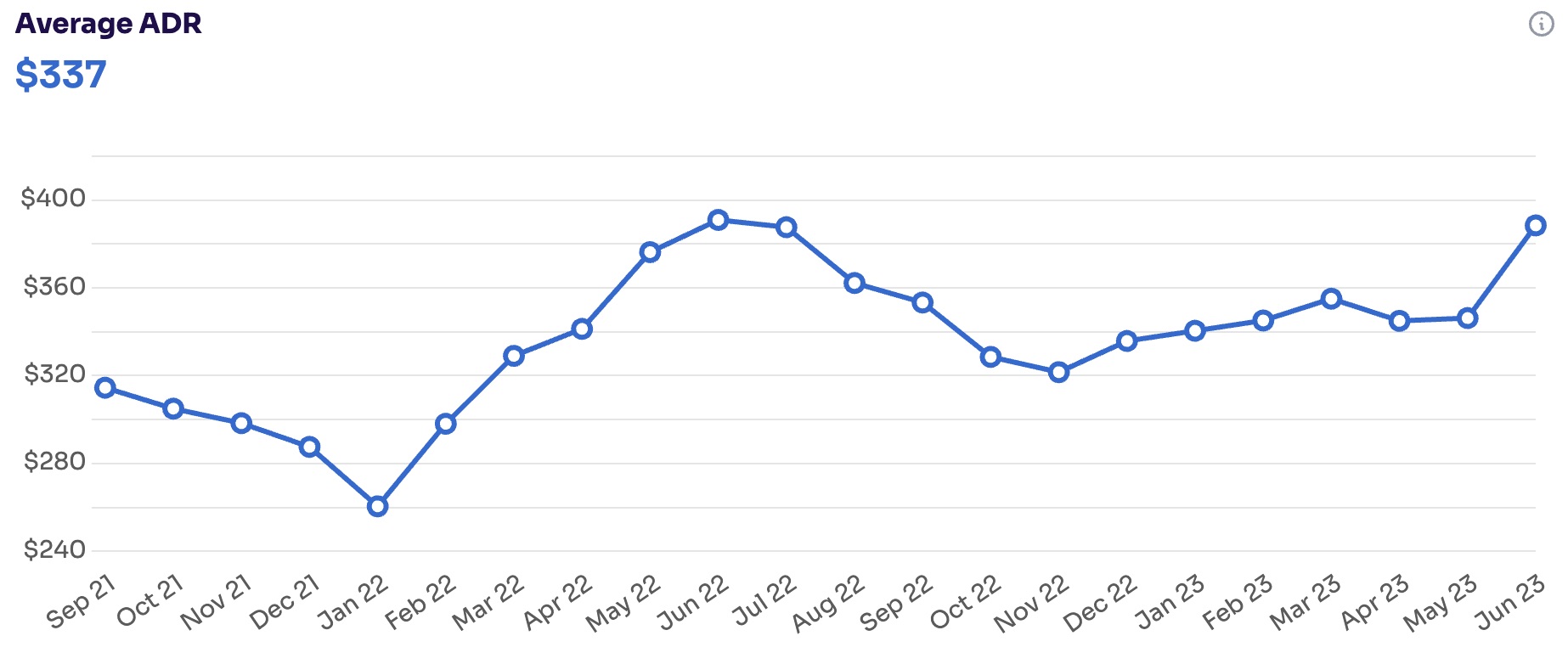 Historical ADR data for Hilton Head Island market via data.rabbu.com
Even though both destinations can cater to a wide range of budgets, when compared to Hilton Head, Myrtle Beach is considered more affordable overall, with a wider range of budget-friendly accommodations.
The Final Verdict
Hilton Head and Myrtle Beach offer different experiences. The "better" option is going to depend on your personal preferences, interests and most importantly, your budget.
Here's a quick recap of what the data shows us about each destination:
The weather is slightly warmer in Hilton Head.
Vacation rentals are more affordable in Myrtle Beach.
Hilton Head Island is less crowded.
Myrtle Beach is bigger.
Myrtle Beach has more attractions and activites to choose from.
Hilton Head Island is less commercialized.
Myrtle Beach has a more vibrant night life.
Both Hilton Head and Myrtle Beach have beautiful beaches.
Frequently Asked Questions
What is the difference between Hilton Head and Myrtle Beach?
The main difference between Hilton Head and Myrtle Beach is the size and atmosphere. Myrtle Beach is a larger city, while Hilton Head has a more intimate island feel.
How far is Hilton Head from Myrtle Beach?
Hilton Head and Myrtle Beach are approximately 200 miles apart. The journey typically takes around 4 hours by car via US-17 and US-701.
Is the weather better in Myrtle Beach or Hilton Head?
The weather in Hilton Head is usually better than in Myrtle Beach. Both towns have mild temperatures due to their coastal location in South Carolina. However, Hilton Head, being farther south on the coastline, tends to have slightly higher temperatures.
Which is warmer Myrtle Beach or Hilton Head?
Hilton Head tends to be warmer than Myrtle Beach, especially during the summer. Both locations offer fantastic weather in South Carolina, but Hilton Head maintains a slightly higher temperature even after the summer season ends. August is an ideal month to visit both destinations.
Is it worth going to Myrtle Beach?
Yes, going to Myrtle Beach is definitely worth it. In addition to the beautiful beach, you can enjoy top attractions like the Carolina Opry, Hollywood Wax Museum, Myrtle Waves Water Park, and Myrtle Beach Skywheel. These entertainment venues make Myrtle Beach an excellent choice for a vacation.
Is Hilton Head worth visiting?
Yes, Hilton Head is definitely worth visiting! With its stunning beaches and top-notch golf courses, it's no wonder that it's consistently ranked as one of the best vacation destinations worldwide. So whether you're a beach lover or a golf enthusiast, Hilton Head has something to offer for everyone.